Asuria is proud to acknowledge its Workforce Australia - Self-Employment Assistance program participant, Rebecca Sutton's incredible feat of launching her limited-edition handmade book 'Closer than Breathing, Seven Tales' this weekend.
Since 2016, Harcourt author Rebecca Sutton has worked towards realising her collection of short stories as a completely independent enterprise. Employing hand-executed techniques such as typesetting using movable type, letterpress printing, paper marbling and bookbinding, Rebecca wanted to publish her book in Bendigo in the medium best suited to its spirit as a characterful work of art.

Rebecca dubs the endeavour of producing her 136-page short story collection using traditional bookmaking techniques "The Harebrained Press Project". With the support of her partner, artist Kain White who created the book's images, she used these skills to craft her limited-edition volume 'Closer than Breathing, Seven Tales'.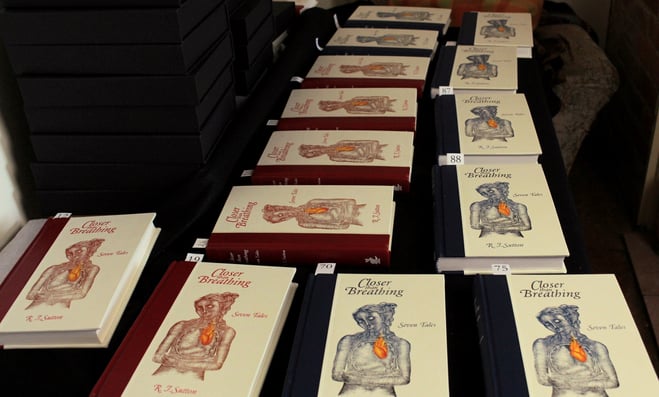 Rebecca Sutton's Handmade Book's ready for launch - 'Closer than Breathing, Seven Tales'
However, her seven-year labour of love has seen its fair share of challenges. To begin with, her most valuable resource—time—was limited. Rebecca spent five years balancing a job in aged care while working on the book. When the employment ended, she needed to transition into a new field, but wasn't sure of where to go. That's when she heard about the Self-Employment Assistance program. Her book was nearing its completion by then, and she thought that it would be the perfect opportunity to make the most of her project while building a new venture: her business.
"It is very difficult to make progress on such a huge creative project while trying to earn an income. Since doing the Self-Employment Assistance course, I've made unprecedented progress, and at a critical time. If I couldn't focus on my business full-time at this stage, while completing and launching my flagship product, I wouldn't be able to give it the hours and focus necessary to make an impact on my buyers," she recalls.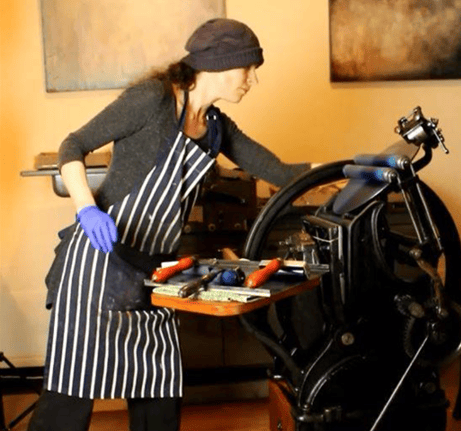 Rebecca creating her book
Rebecca commenced with the Self-Employment Assistance program in August 2022. Joining nine other participants from Bendigo, she was keen to gain skills and knowledge to further refine and launch her business idea. Along with honing these skills, Asuria also connected Rebecca with business mentors and financial support. As Rebecca elected to undertake the Micro Business skill set course that focusses on developing a detailed business plan, she underwent an eight-week training program including four weeks of online live training webinars and local mentor support, coordinated by Self-Employment Assistance Business Mentor, Ramesh Singaram.

Through the Self-Employment Assistance program, Rebecca benefitted from flexible support services to establish her business idea and provided her with small business trainings. Working with Ramesh, she turned her idea of handmade books into a viable business, having been allowed to choose the level of support that met her and her small business' needs.

Commenting on Rebecca's journey, Ramesh says, "It's been wonderful witnessing Rebecca's progress in taking her passion and her handcrafted art into the marketplace. She has built on the suggestions and support offered to position her fledgling business well for the year ahead."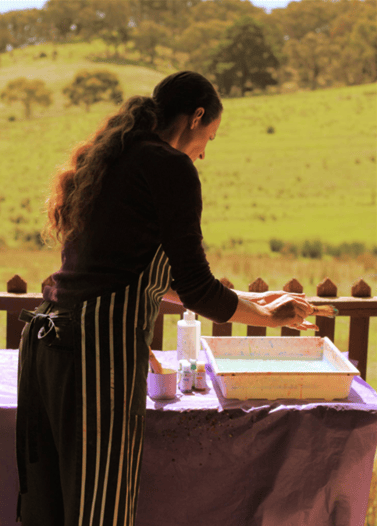 Rebecca creating her book
Rebecca says, "The flexible course was very helpful, because I live in a fairly remote location. The course itself prompted me to think about aspects of business that I hadn't considered before, but which are important, things like market competitors and target audience. Also, the financial support has freed me up to put the hours into the business to give it the best possible start."

"I now have a clearer direction on where I want to take my business with a more positive outlook. With support, I've been successful in what I set out to achieve. The sales I've gained by starting out properly will fund the next stage of my business plan and stand me in good stead for the future," Rebecca adds, all set for her book launch this weekend.

Rebecca's book will be launched at Dudley House in View Street, Bendigo in Central Victoria by local poet and publisher, Tegan Gigante of Birdfish Books and the event will feature guest speaker Harry Oldmeadow, editor and author of 'Journeys East'. 120 copies of Rebecca's bespoke, leather-bound books will be available for purchase thereafter.

In conjunction with the book launch, an exhibition 'Anatomy of a Book' will run at the same venue from March 10-11, from 10.00 am to 5.00 pm featuring bookmaking displays, artworks for sale, and a retrospective on The Harebrained Press Project. Bookmaking-related demonstrations are scheduled for 11.00 am and 2.00 pm on Friday, March 10.

Asuria, is one of the biggest providers of Workforce Australia- Self Employment Assistance program. For over 10 years we've helped kick-start participants' passion into their own business from seed to sprout, at no cost to them, funded by the Australian Government.

Asuria's Self Employment Assistance program has many offerings for participants looking to start their own business, or existing small business owners, including Exploring Self-Employment Workshops, Business Plan Development, Accredited Small Business Training, Business Advice Sessions, Business Health Checks and Small Business Coaching.

Asuria's decade-long delivery of the Self-Employment Assistance program (formerly known as New Business Assistance with NEIS program) has helped hundreds of people turn their passions into careers. If you have a business idea and think you might be eligible for Self-Employment Assistance through Asuria, click here to learn more.